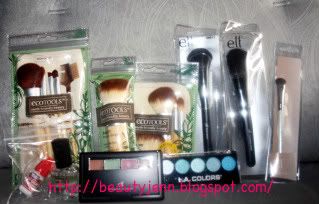 Order Date: Saturday 03 April, 2010
Products
1 x
E.L.F. Studio Corrective Concealer


1 x
L.A. Colors 5 Color Metallic Eyeshadow: Tranquil


1 x
ELF Eyeshadow Brush
1 x
*NEW!* EcoTools Bronzer Brush
1 x
L.A. Girl Smudge Fixer


1 x
E.L.F. Studio Blush Brush


1 x
E.L.F. Studio Complexion Brush


1 x
EcoTools Bamboo 5-Piece Brush Set
1 x
EcoTools Bamboo 6-Piece Brush Set


1 x
Sassi Clear Nail Glue





I ordered it on 3 April 2010 at the
Makeup Mix Shop
. Miss Toma is the only one preparing the orders and she has been a very nice and accomodating lady! It will take longer for her to prepare when there is a SALE/ promotion. I was quite a pesky and persistent customer. It was shipped on 13 April and arrived today! I wanted It came with a $5 off voucher which can be used only with a min $50 purchase...
I was so excited to receive this haul. I love the love of the ecotool brushes and will order some more for my friends if there is a promotion. (i think I just missed the last promotion.)
In fact, the Ecotool brow brush was damaged in transit (I was quite upset because it is no longer a complete set) and the LA fixer actually leaked (and caused a small mess on my sofa as I was taking pics). I must admit that Miss Toma is a very fast and efficient person when it comes to customer feedback, she immediately calculated and refunded me the money for these 2 damages (without me having to ship back the 2 items), Refund was through paypal on that very same day, within a few hours!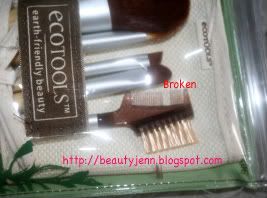 EDM must really learn from her and reply existing customers fast regarding damaged goods etc.
I tried the Ecotools bronzer brush and MY! It is a must buy!