Shipment arrived on 7 may afternoon! Was very happy to receive this in my mail. I have enjoyed the free shipping offer( free shipping for anything above USD15) and poor Toma from the Makeup Mix shop actually paid USD 8.96 for postage!
Hmm. the elf complexion palette looked quite old with brown spots on the container, the elf eye primer's box was totally flattened and one edge was torn so i took it out of the box to take pic. The glitter eyeshadows were not as I have expected, the thickness was much lesser.. Anyway, i didn't pay too much for these items so I shouldn't be complaining.
From the last time purchase, I used the elf studio blush brush and elf studio complexion brush, ecotool bronzer brush and elf prof. eyeshadow brush. I think the bronzer brush is a pretty useful tool to contour your face.
Anyway below is the most recent purchase.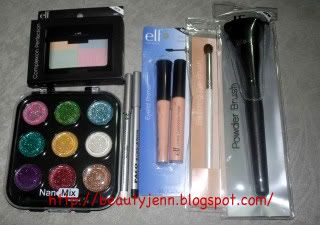 I went back to log in to the website and I realised that because of the lack of man-power, the orders took quite long to process and it seems that do not get to enjoy the so called loyalty discount. By the time you thought u accumulated enough to get the 5 % or 10% discount as a reward of spending a total of 60 or 80 USD a month, the offer actually lapsed and you have to start from scratch again!